On sale for $34.99 for Limited Time Only With Free Shipping. Retails for over $80.00 dollars.

WA-2608 36dB 360° Indoor Outdoor HDTV DTV TV Antenna W/Rotor & Remote Control.
Our Most Popular Antenna Hundreds Bought it and have Been 100% Satisfied.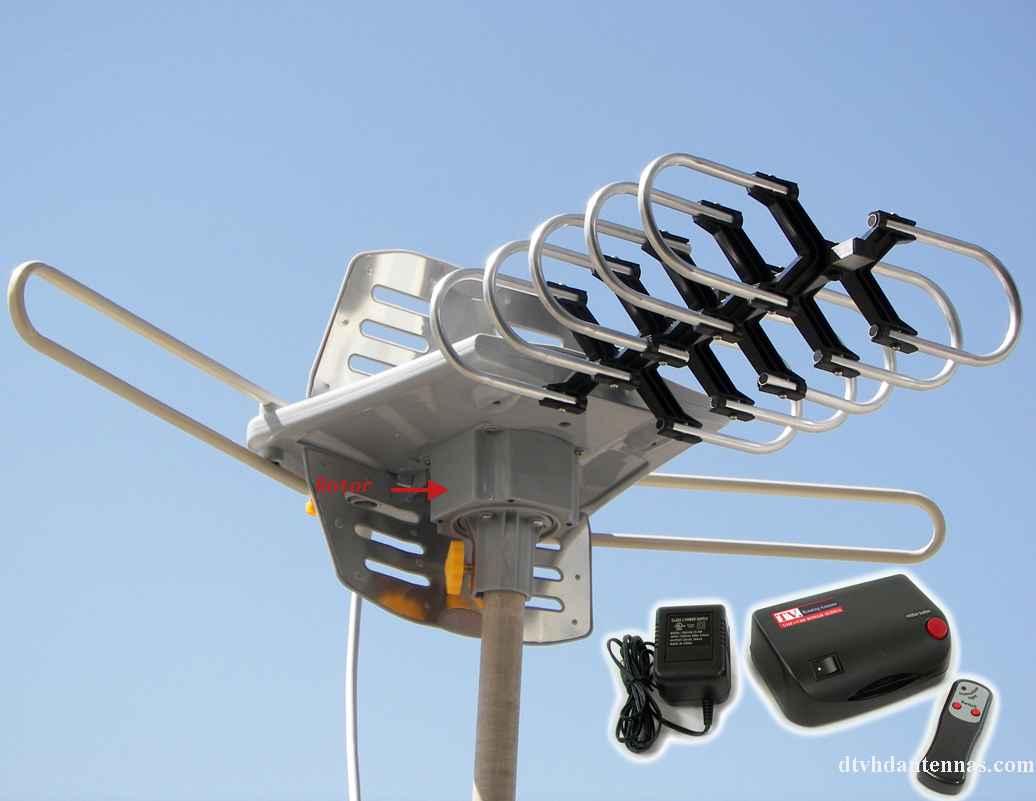 We provide Customer Support when you order from us, most places if you have an issue no contact info!
Brand new WA-2608 Super signal booster 360º degree rotating system remote controlled HDTV/DTV amplified Outdoor TV antenna. This is the newest antenna in the market with better reception and design compare to most antennas sold in many other places. We already tried it like we always do with all the items we sell and we can honestly say this WA-2608 HDTV/DTV antenna perform much better than most antennas we have sold before. It comes with better electronics and stronger material, looking for a way to watch digital TV for free the WA-2608 new antenna will help you achieve that and the best thing of all is that digital TV off the air is Free you do not have to pay cable or satellite. Buy the WA-2608 outdoor TV antenna and start saving by canceling your cable or satellite provider. Many already bought this antenna and they been very please with it. The WA-2608 TV antenna is Compatible with HDTV/DTV Digital Converter Boxes.

The WA-2608 hdtv outdoor tv antenna comes with 45ft coaxial cable to install on top of the roof, balcony, wall etc, in most cases the 45ft coax cable included is enough, if you live in an area where TV signal is weaker and need to install it higher additional coax cable can be add.
The WA2608 HDTV Outdoor Indoor Tv Antenna has A lot good reviews from many satisfied customers and we also recommended. Easy to install mounts on a 1" Mounting J pole.
The WA-2608 Outdoor Digital Rotating Power Amplified Indoor/Outdoor TV Antenna has good reviews and is guaranteed to improve your TV signal reception (where available). available at a very low price over 50% off + free shipping and 60 days free warranty in the rare case something comes up. We stand behind the product 100%

With the money you save paying cable or satelliete bill this antenna will pay itself in less than one month. Save money by switching from pay TV to Free TV over The air

Have question about this product please call-email or chat with us◘
*We want you to make an informed purchase, Please check the link below to make sure there is signal available in your area.
Please visit http://transition.fcc.gov/mb/engineering/maps/ to view channels available in your area.
Watch HDTV/DTV channels Off the air for Free-no monthly fees to pay easy to connect anyone can do it.
Connect this powerful antenna to a HDTV or digital converter box and start enjoying Free TV channels.
Many Customer already bought this antenna and they have been satisfied and they recommended it to others.
6 Reasons To Buy this new antenna:
Offers Better Reception than most Antennas sold on ebay

Easy To assemble

Small Size Can Be Install Indoor or Outdoor

You Will Save Money On Cable or Satellite

Offers True 1080P Resolution When Connected To HDTV.

Wireless Remote Included For Easy Access.
Main Features:
Super Active Outdoor Antenna

Support 2 TVs

TV1 Out

TV2 Out


High Quality Far Ranging Reception

UHF/VHF/HDTV/DTV FM

Parabolic Focusing Reception

Built-in High Gain Booster

Built-in Low Noise Circuit

Compatible With Converter Boxes And HDTVs

Manually or Wirelessly Controlled

360º Rotating System

36dB Signal Booster


Operates More Than 1 TV

Over 100 Miles Range Line of Sight to The Stations

Easy To Install
Specifications:
VHF:40~300mhZ 28~32dB
UHF:470~890MHz 32~36dB
OUTPUT IMPEDANCE
75Ω f-Connector
Noise Figure:≤2.5dB
Max Output Level:105dB u V
Main Voltage: AC-110V/60Hz
Package Contents:
Antenna, Motor, Wireless Remote, Antenna Controller Box, Power Supply, 1-40ft Cable, 1-4ft Cable, Manual.
Get Our Most Popular TV Antenna And Start Receiving Free Digital TV Over The Air And Cut Your Cable Bill.