This page is to show you How to Install a WA-2608 Outdoor HDTV TV Antenna.
Setting up the Outdoor Antenna isn't as complicated as it seems. You are given the following Parts to the Antenna:
1. Main Unit
2. Main Pole Column
3. Motor-Fixed bolster
4. Square Pilt/Bar
5. U-Frequency viberators(QTY:5)
6. Screw A TYPE(3x10mm)(QTY:5)
7. Screw B TYPE(4x10mm)(QTY:4)
8. Screw C TYPE(M4x12mm)(QTY:4)
9. Screw D TYPE(M4x18mm)(QTY:1)
10. Power Supply
11.Remote Controller
12. 75ft Coaxial Cable
13. Power Adapter
14. Instructions
Step 1:
For the first Step, you will have to Screw in the (5) U-Frequency Vibrators into the SquarePilt/Bar. You will need to align the Vibrators into the center of each hole on the Bar. You will then screw in the (5) A-Type screws in each of the vibrators onto the square bar.
Step 2:
Once finished with Step 1, you will then go to your Main Unit and Spread Out the V-Frequency Vibrators( the (2) U-Shaped Bars) until they lock into there desire place.
You will then Open the Top and Bottom panels and slide the 2 Locking Mechanisms outward to lock and hold the panels in place.
Step 3:
You will then Insert the Square bar into the center of the Main Unit and Screw in the (1) D-Type screw on the bottom side of the Main Unit.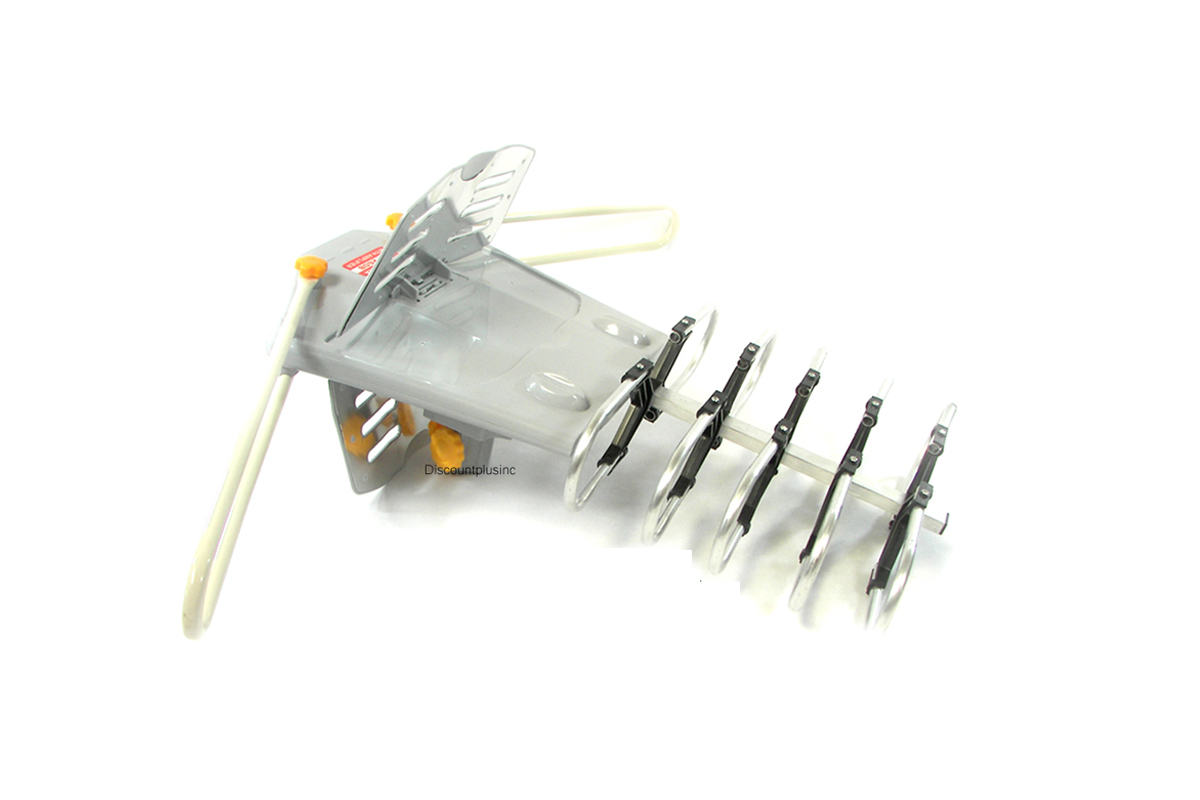 Step 4:
In Step 4, you will need to first place the Main Pole Column underneath the Motor-Fixed Bolster in its correct holes. Once you have both of them inserted, Screw in the (4) B-Type Screw in its correct Holes.
Then, assemble the motor unit underneath the main unit with the last Remaining screws, (4) C-Type Screws.
Step 5:
When you have all The pieces combined together, the Tv Antenna is ready to use. You may Only mount a 1" Diameter Post onto the Main Pole Column and screw in the (2) Yellow Knobs to secure the Antenna from Moving. You will then Connect the 75ft Coaxial Cable in the bottom of the unit and connect the Coaxial into the Power Supply/IR Receiver label under "Antenna" You will then be allow to connect up to 2 TV's to view off the air reception. You can rotate the antenna to any positioning you wish through either the Red button ont he Power Suppy or the remote Control.
*Please Note : To receive better reception, Make sure you have the Antenna allign to the Line Of Sight in where the TV Towers are located in. To know if you receive Good Off The Air reception , please visit the link to view if you are able to receive the Channels Off the Air: http://transition.fcc.gov/mb/engineering/dtvmaps/.